Looking to Transform Your Life? 
Believe it or not, 25+ years ago I was an All-Canadian Volleyball player living the high life in Europe playing professionally. I was on top of the world. But a few short years later that all came crashing down. I was sick and depressed, 90lbs heavier and suffering from an undiagnosed autoimmune condition that had me struggling daily with my energy, self worth and identity. Then, a synchronistic meeting with an intuitive doctor set me on a course of reclaiming my inherent worth and transforming my life. Within 18 months I had recovered my health and found my calling- my pain became my purpose- and now I know I am here on this planet to help others through their own journey to optimal health by learning to love themselves and feed their cells. If this sounds like what you are yearning for, I can show you how to do this for yourself! 


Left- age 30 and me now- age 45. 15 years, two children, one loving husband and hundreds of satisfied clients later, I am happier and healthier today than I ever was even back in those "glory days". I know who I am and I know how I serve. I'm in the prime of my life and you can be too!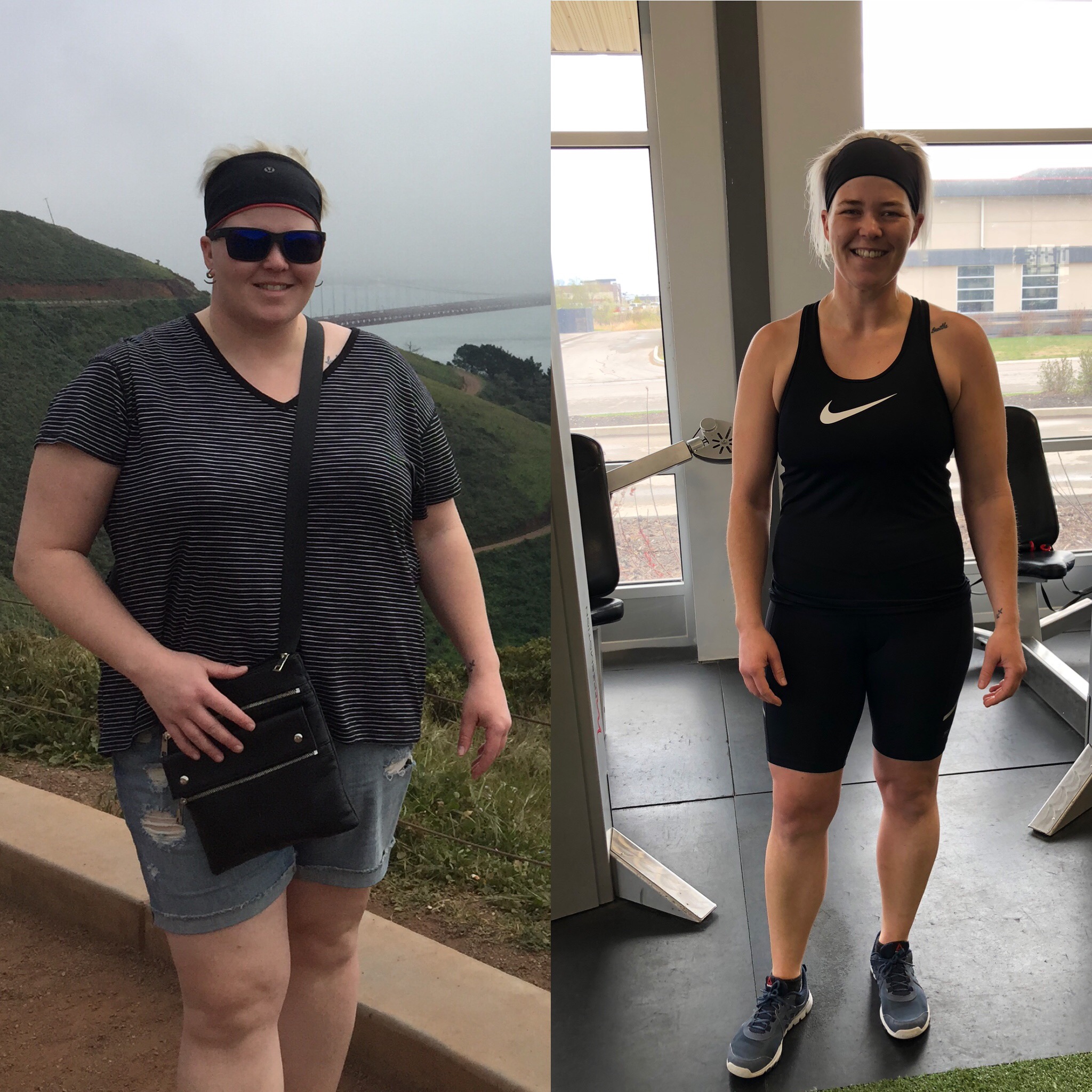 This client took control of her life and health, got her autoimmune condition under control, established healthy behaviours and routine, and lost over 100 lbs. Here's what she has to say about working with me:
"I couldn't believe how quickly I could feel and see the positive effects while taking Natalie's Intuition Nutrition Intensive! It truly changed my life!! ~Erin S., Winnipeg, Canada 
Meet my client Mike B. from California, who transformed his beliefs and behaviours simply by deciding that he was worthy of living his best and highest expression!
"To kick everything off, I hired Nutritionist and Self-Love coach for a 6 week "Intuition Nutrition Intensive" that included an in depth health assessment, dietary/vitamin/supplement recommendations, and weekly one-on-one coaching support. This was a great decision and provided a ton of direction and momentum right out of the gates. Thank you Natalie!!
With supportive guidance, personal responsibility, steadfast accountability, cutting edge health and cognitive hacks Mike transformed himself- and so can YOU!
If you are ready to live the life you've always wanted and are looking for support and guidance from someone who has done this for herself and countless other people, email me at hello@nataliereimeranderson.com to begin your journey to your best and highest! 
No posts on this blog yet.
Testimonials
Below are a few words of gratitude from those who have worked with Natalie, participating in her programs or one-on-one sessions. Use the link below to view all testimonials.
Natalie Reimer Anderson The Self-Love Coach

"Thank you so much for taking the time. I felt deeply soothed talking to you and appreciate your intuitive and deep listening. Thank you for the potent reminders and wisdom you shared with me. Looking forward to diving into this book. Bless you for all that you do. 🙏💕🙏"

Cate

Unblocking Your Self-Love Discovery Session

Natalie Reimer Anderson The Self-Love Coach

"It's like the flood gates have been opened – it's exposing a vulnerability that I've been scared of for so long, but I'm okay with it now.

Both of these aspects are going to be key to a much-needed turn around in my life, I can feel it.

Thank you for touching my life somehow in such a profound way. It's like fate and cosmic energy and whatever else…And amazing!"

A.B.

Unblocking Your Self-Love Discovery Session

Natalie Reimer Anderson The Self-Love Coach

"Reaching out to you has been one of the most powerful things that I have ever done for myself 💜 you are an incredible human being and I cannot possibly express to you how grateful I am for everything you do and have done 😘"

L.W.

The Cell~Soul~Self-Love System

Natalie Reimer Anderson The Self-Love Coach

"I swear I literally see dream big & blue sky everywhere I go… I saw this wallpaper which of course made me think of you! You have no idea just how big you have inspired me to dream💕

Thanks so much 🙏🙌💕 Your presence honours me.

I wouldn't be where I am right now without you. You are doing what you are meant to do, keep going strong! 🤗"

Holly T.

The V.I.P. Day

Natalie Reimer Anderson The Self-Love Coach

"Everyone needs Natalie in their life!! I highly recommend working with her in any capacity. Her work is truly authentic and refreshing and with her loving guidance, she will help to bring out the best in each person. Working with her helped me to approach things in an entirely different fashion, from a different angle and I'm really grateful to have been able to work with her."

C.M.

The CELL~SOUL~SELF-LOVE SYSTEM
Follow @BlondeSovereign on Instagram for daily inspiration!
Listen to my personal story of the healing power of self-love here!