Believe it or not, 25+ years ago I was an All-Canadian Volleyball player living the high life in Europe playing professionally. I was on top of the world. But a few short years later that all came crashing down. I was sick and depressed, 90lbs heavier and suffering from an undiagnosed autoimmune condition that had me struggling daily with my energy, self worth and identity. Then, a synchronistic meeting with an intuitive doctor set me on a course of reclaiming my inherent worth and transforming my life. Within 18 months I had recovered my health and found my calling- my pain became my purpose- and now I know I am here on this planet to help others through their own journey to optimal spiritual and physical health by learning to love themselves.
If this sounds like what you are yearning for, I can show you how to do this for yourself! 


Left- age 30 and me now- age 45. 15 years, two children, one loving husband and hundreds of satisfied clients later, I am happier and healthier today than I ever was even back in those "glory days". I know who I am and I know how I serve. I'm in the prime of my life and you can be too!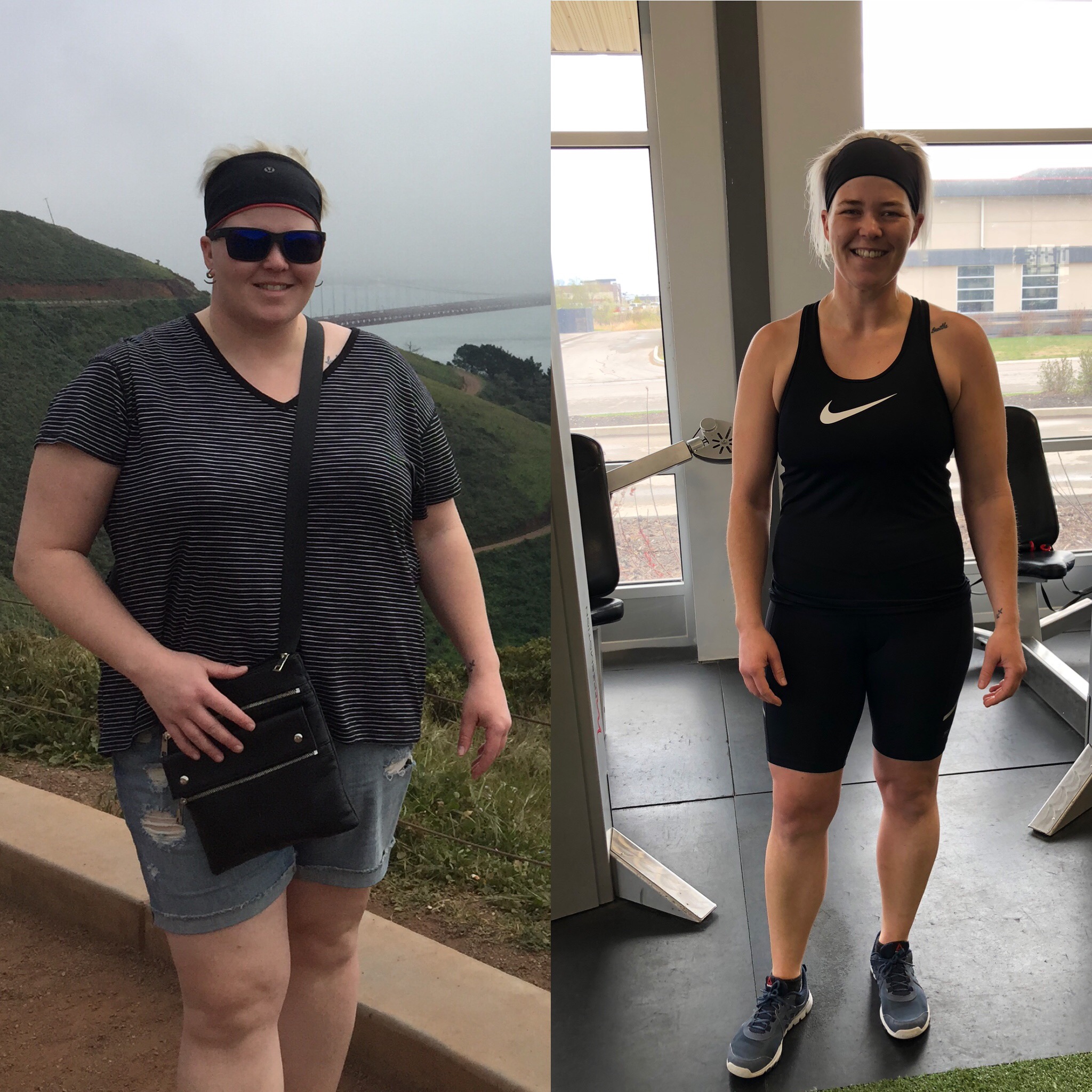 This client took control of her life and health, got her autoimmune condition under control, established healthy behaviours and routine, and lost over 100 lbs. Here's what she has to say about working with me:
"I couldn't believe how quickly I could feel and see the positive effects while taking Natalie's Intuition Nutrition Intensive! It truly changed my life!! ~Erin S., Winnipeg, Canada 
Meet my client Mike B. from California, who transformed his beliefs and behaviours simply by deciding that he was worthy of living his best and highest expression!
"To kick everything off, I hired Nutritionist and Self-Love coach for a 6 week "Intuition Nutrition Intensive" that included an in depth health assessment, dietary/vitamin/supplement recommendations, and weekly one-on-one coaching support. This was a great decision and provided a ton of direction and momentum right out of the gates. Thank you Natalie!!
With supportive guidance, personal responsibility, steadfast accountability, cutting edge health and cognitive hacks Mike transformed himself- and so can YOU!
If you are ready to live the life you've always wanted and are looking for support and guidance from someone who has done this for herself and countless other people, email me at hello@nataliereimeranderson.com to begin your journey to your best and highest! 
Watch my personal story of the healing power of self-love!

How long have you been doing what you do and how did you come to be a Self-Love Coach?
I was a high school coach and teacher for over a decade before having my children and simultaneously experiencing a personal health crisis. I was diagnosed with Hashimoto's Thyroiditis, an auto-immune condition which attacks the thyroid and leads to many symptoms including; weight gain (I gained 90lbs), a feeling of constant cold, extreme fatigue and severe depression.  I had two little ones to care for, a husband who was suffering from Crohn's disease and now my own ill health, so I began to look for solutions to feel better and to care for my family. By the grace of Creator~Source, I still had a tiny spark of life-force deep inside of me  and even though I was at rock bottom, that flicker of HOPE that was reflected in the eyes of my children, was about to be set ablaze!
It was a synchronistic meeting with an empathic and intuitive Integrative Medical Doctor that shifted my life's course and set me on a path of spiritual awakening and healing.  He showed me that my auto-immune condition had spiritual and energetic roots that needed to be addressed if I was going to find true healing for myself.  He explained that the thyroid was the gland sitting in the throat chakra, our centre of personal truth, creativity and communication,  and that I had shut down the energy flow to that chakra by my own self-judgement and suppression of my truth.  My sense of deep unworthiness had silenced my internal voice and made my physical body manifest this dis-ease.  My own self-loathing was causing my body to attack this part of me.  With this realization, I began to get serious about my TRUTH, getting in touch with my creativity, and exercising my powerful voice.  I read voraciously and journaled to get in touch with my authentic, inner voice and my higher wisdom.  I underwent many holistic therapies to heal and nourish the physical body but equally as importantly, I excavated the layers of pain and self-loathing I was buried under to liberate my true-self and bathe my cells in the sunshine of Self-Love.
As I began to research and implement the health knowledge, both physical and spiritual, that I was gaining from this experience, I started to see real and tangible results and that was the birth of my passion for true health care and spiritual-based nutrition. I added a registered holistic nutrition certification (RHN) to my education and began a career as a holistic nutritionist and trainer which lead me to employment as the Nutritionist and Lifestyle Educator at premier Naturopathic Clinic.
In the few years I spent at the clinic, I saw an estimated 400+ clients and it became very clear to me that the common theme in their stories was that IT WAS NOT ABOUT THE FOOD. The real source of their ill-health and suffering was the same thing I had dealt with, a DEFICIENCY of SELF-LOVE that was simply affecting the other relationships in their lifeincluding their relationship to food and how they cared for themselves. It was evident that the foundation of all healthy relationships, including those to partners, children, exercise, finances, sexuality and food etc., must start with a healthy and loving relationship to SELF.  Our bodies are an external symptom of the internal thoughts, beliefs and feelings we have about ourselves; our programming.
In this beautiful discovery, I realized that focussing on the issue meant addressing SELF-LOVE FIRST, then the magic  follows.  As I began to work on the origin/cause of the problem and not simply the effects of it, I started to see people profoundly change the way they nurtured and cared for themselves.  They began to see true and lasting change and healing rather than applying another bandaid to the wound they had carried for so long. I came to understand that SELF-LOVE is the salve that can be applied to any wound to create healing.
I knew that I had to create a program to incorporate all of these discoveries and practices into a simple and effective program; a program that addresses our cellular need for nutrients and what I call the "soul-ular" need for vitamin love, coupled with consistent and loving support in the form of coaching and accountability, so that everyone in need could benefit from the life-changing power of LIVING IN LOVE WITH THEM-SELF!
My calling has found me!!  This was over 10 years ago and I have been blessed by being aligned and alight with purpose ever since!  The fire of my LIFE-FORCE is ABLAZE and it is my honour to fan that spark in the hearts and spirits of the souls that work with me.
Who are your clients exactly?
My clients are people who are awakening to the truth that they are more than their physical body yet understand that the body is the vessel/vehicle that needs to be healthy in order for them to live their best life and to self-actualize.  They may not know how to navigate through all of the information out there, what is right, what works and what is for them.  They may have need for a complete health and lifestyle overhaul with nutrition, supplementation and exercise counselling or they may need help with seeing themselves through the eyes of love until they can do that for themselves.  They are from all walks of life but share one understanding; that they need to LOVE themselves first and they want to learn how to do it once and for all.  They understand that they need help to "see the forest through the trees" and that a compassionate observer-coach can hover above their forest and guide them to their sunshiny meadow.  They are ready to look at their programming, find their truth and embark on a journey to create new neural pathways firing with self-love.  They are ready to change their life and their health, both spiritual and/or physical. They are ready to create an abundant life from the foundation of SELF-LOVE. My clients are courageous. They are ready to become everything they were created to be.
What exactly are your programs and what do they include?
Unblocking Your Self-love Discovery Session: 
If you crave some real talk and compassionate, intuitive and open-hearted listening without judgement or pretence, this 90min call is for you! I will hold you to your highest truth of what your soul is wishing to express and to help you to see for yourself the glorious and precious being that you were created to be.  We will open your eyes to see the blocks obscuring the beauty that IS YOU! You will begin to discover your truth and begin to LOVE YOURSELF more day by day!! (*if you choose to carry on with individual coaching the cost of this call will be subtracted from fees.)
The Design Your Life VIP Day: This is a one day intensive full of pampering and fun where we work together to dream big, create the life of your dreams and then reverse engineer the steps you will take to make your dreams come true right down to the disciplined daily actions that will get you there. You leave with a luxurious gift bag, a workbook full of useful exercises to deepen your self-discovery and self-love and a clear step-by-step action plan to begin implementing immediately. 
The Intuition Nutrition Program: This 6 week program includes a complete nutritional symptomatology and lifestyle assessment to uncover your current health status and needs.  A personalized protocol is created for your individual needs and health goals.  You are given tools to habituate new behaviours, menu plans, recipes and supplementation and exercise recommendations, teaching about your body's needs and how to address them, shifting your relationship to food and nourishment and get you started on a course of healthier practices. 
This is designed to empower you with knowledge of nutrition and set you on a course of meeting your health goals once and for all. We begin with a screening and intake appointment (1 1/2hrs) to discover your current health status, nutrient deficiencies, lifestyle practices and personal goals. Based on your unique needs and goals we have a launch appointment (1 1/2hrs) to clearly explain your individualized program and get you started! You will receive a clearly laid out, tailor-made nutrition plan with meal suggestion, daily tracking and habituation tools, menu plans, recipes, nutritional supplement advice with hands-on guidance in navigating purchase, nutrition and healthy food resource information and shopping guide, effective and efficient exercise and healthy movement program, as well as spiritual practices to enhance your mind and body's ability to achieve optimal health. Every other week you will receive a half-hour check-in call to continue to progress toward your health goals and to further your personal knowledge, habituation and empowerment. 
The Cell~Soul~Self-Love Signature System: The focus of this system is to show you the beauty and worthiness that you are simply because you exist!!!  It will teach you how to fall madly in love with yourself and your glorious life! It is created to bring to light the programming that you currently have that is blocking you from seeing the divine being of love and light that you truly are and to choose and reinforce new patterns and behaviours to treat yourself lovingly and with healing compassion. The Self-Love Signature System is based on all of the practices that I have personally used on my own journey to self-love and that I have refined down to the most effective and life-changing tools, spiritually symbolic rituals, self-care practices and healing modalities.  This program is for you if you are tired of spinning your wheels but just don't know how to get unstuck.  You will be coached and supported through this life-changing process for 9 months.  Each trimester focusses on a different aspect of your healing as you gestate in the loving womb within.  A new you will be ready to emerge as you give birth to your new life that you will lovingly and fiercely protect and nurture.  This system is not for those who are not ready to surrender to what is possible. 
Does this really work?
Yes!! I recovered my own health, lost 90lbs, HEALED and auto-immune condition that allopathic medicine does not believe can be cured, fell in love with myself and my life, healed relationships to food and family and found my calling and life's purpose!! And that's just me…  See what my clients whose lives have been transformed have to say on my testimonials page.
What results can I expect?
The results that I can provide when you work with me include:
Determine what you truly CRAVE on the cellular and "soul-ular" level, then filling you up with both cell and soul food.
Understand that true nourishment is both spiritual and physical and one can't fully heal without the other.
Optimal health through empowered choices based on educating you not making you dependent.
A new and simplified lifestyle that you will easily habituate and integrate, not just going on another diet or doing another surface therapy.
Small and effective steps to create positive and lasting changes.
A holistic, mind-body-spirit approach that is designed for your unique needs and goals.
A focus on health, both spiritual and physical; a healthy weight and body composition being a by-product of overall health.
Learn strategies to navigate the real-world and avoid the common pitfalls.
Understand that you are NOT YOUR PROGRAMMING and that you can reprogram yourself through awareness and deliberate action. YOU ARE IN CONTROL when you are aware.
Accountability through assessment, goal-setting in taking control your one glorious life.
The uniqueness of the individual and the power of the body to heal beyond what you have ever thought possible.
That the underlying causes of negative food and lifestyle patterns/programs can be changed once recognition and awareness are brought to them.
The power of coaching, accountability, encouragement and compassion applied to your life goals and journey.
Facilitating your path to wellness and self-love through uncovering what you already have within you as an infinite being and the creator of your life.
That YOU are whole, unique and perfect just as you are and that this present experience is part of your life's curriculum.
That your body has an innate intelligence and you can learn to listen to what it needs and desires. You can be friends with and love your body once and for all.
You might just find yourself exuberantly over-flowing with lightness and joy as your creative life-force and childlike curiosity for life returns.
You will truly know that you are confidently and assuredly sailing your own ship.  And perhaps you will find yourself excited to act as the lighthouse for someone else to navigate to shore.
Natalie, I feel like with everything I have learned about you and your programs that I would like to work with you.  How do I get started?
Wonderful!! First of all, I want to know who YOU are so we can both determine if we are a good fit and what YOU need. So we need to talk!! Contact me via email at nataliereimeranderson@gmail.com with the subject; attention self-love coach!  We will book a free call session to gain clarity on what is best for YOU and YOUR personal path.
INFINITE LOVE and GRATITUDE to you as you move forward on your soul's divine journey in this amazing adventure called life,  
Natalie 
The Self-Love Coach
Psssst, one last thing; if you have read to the bottom of this, YOU ARE READY to change your life and I'm so excited for you! It would be my great privilege to help you along your path to GREATNESS!!!